Watch the video below to see just how much you can grow in my extra large self-watering garden bed.
Wicking garden beds the easy way
Interested in wick garden beds but having trouble finding the right parts or good diy instructions? Buy one of our complete kits and assemble it yourself in an afternoon!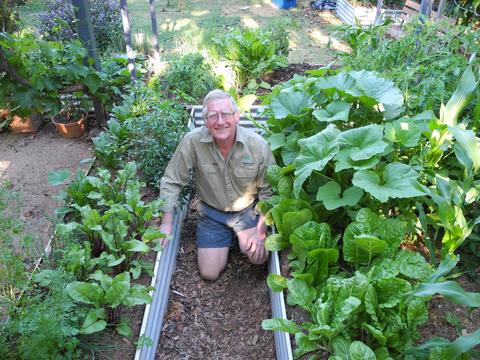 These have to be the easiest wicking beds to set up. Well thought out design... I loved using woodchips instead of heavy gravel, and the liner is prefolded ... bliss! Happy to recommend 😀
Catherine (Facebook)
Read more reviews & testimonials
Each kit contains
Metal posts and rust-proof Colourbond steel sides
Strong and thick plastic water reservoir liner
Fill pipe and dipstick
Pervious matting
All assembly hardware and post end-caps
Easy-to-follow illustrated assembly instructions
I thought I would try a Watersaver Garden last year and found that they were so low maintenance I had to buy another two!
Kath (Toowoomba)
Read more reviews & testimonials
How to order
Browse our wick garden kits to find the right size for you!
Place your order online, or contact me directly
Your garden will be delivered to your door in 1-2 weeks
Assemble your kit using the provided instructions, then add soil and wood-chips
Get planting!
Available in 5 different sizes!
First, I'd like to say how impressed I am with your garden beds. Beautiful design, so easy to put up and easy to follow detailed instruction. I can't believe you even added a drill bit for the canopy section and fixed the polypipe edges to be joined, so kind.
Therese (Brisbane)
Read more reviews & testimonials