Raised Garden Bed - Space Saver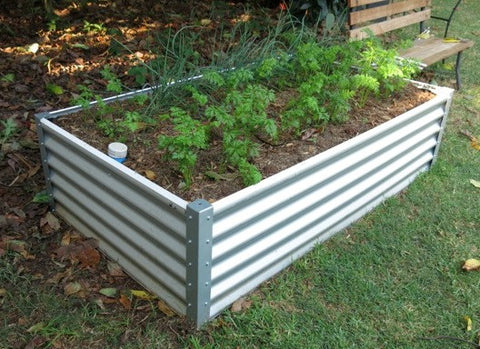 If you stuck for space this size should suit. Designed so it's not to wide to go against a wall or fence.
Extremely water efficient - No water lost past the root zone, little evaporation
Completely self-watering & little weeding takes the drudgery out of gardening
Easy to be chemical-free and organic
Fool proof for beginners - Plants thrive with little to no maintenance
Simple to assemble with complete easy to follow instructions provided
Chose from the wide range of custom Colourbond™ colours to suit your home 
Gardens look after themselves while you're away
Free ongoing support & gardening advice at watersavergardens.com.au
External dimensions: 160cm x 93cm x 44cm high (5' x 3')
You'll also need the following before you're ready to start planting:
Phillips Screwdriver (preferably cordless screwdriver or drill)
Stanley knife or Scissors
1/2 m³ woodchip (approximately $25 from a landscape supplier)
1/3 m³ soil (approximately $30 from a landscape supplier if required)
Are you in the Toowoomba area? Find out about our
complete installation service.